Riverside, Corona, Southern California Decks, Patios, Gazebos, Sheds Remodeling | JMG Construction
Decks, Patios, Gazebos, Sheds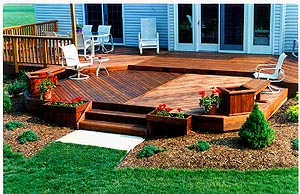 JMG Construction designs and builds all types of decks, patios, gazebos and sheds. We believe in the old rules of construction, "you get what you pay for". With so many independent sub-contractors in the construction business, it's nice to know that we strive to create the perfect solution to fit your needs, with only the best quality materials available and the finest craftsmanship.
Whether you're looking for our simple budget minded designs or an elaborate multi level project, JMG Construction believes in only the very best for your home. We have the experience and the know how to build you and your family a deck, patio, shed or gazebo to fit any budget and design.
We offer the maintenance free and beautiful T-Rex decks as well as traditional wood designs. We take extra care in the design process and current building code applications. We offer free design service.
Options range from bench seating to custom railing applications. Only grade A pressure treated wood, galvanized steel nails, and fasteners are installed with laser leveled framing. You will be completely satisfied with your new outdoor escape.
Call us at 951-220-2499 or fill out our online contact form.